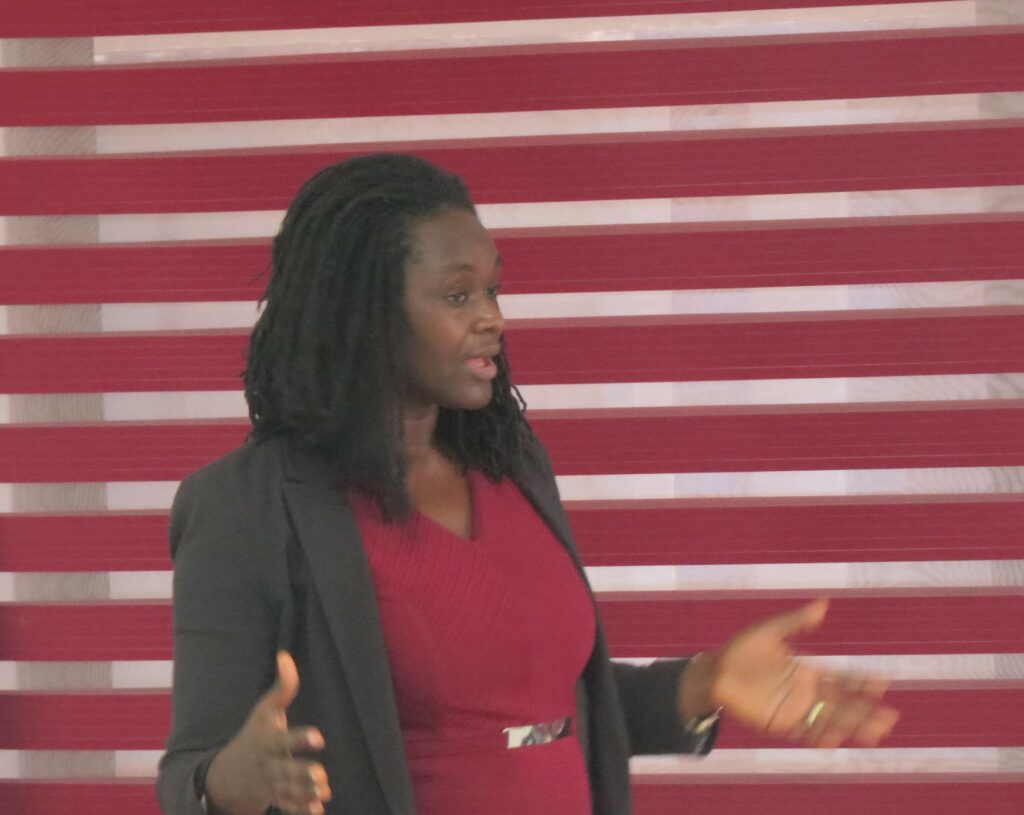 Dr. Nana Ama Browne Klutse, the AIMS-Canada Research Chair in Climate Change Science, on Tuesday, 1st June, 2021 had the opportunity to educate the Ghanaian populace during an interview on the Citi Breakfast Show. The discussion centred on issues surrounding the low rainfall anomaly, being experienced in the country at present. She linked the low-to-no rainfall patterns, to low temperatures occurring on our ocean surfaces. According to her, a major part of the evaporation that leads to the formation of rain-bearing clouds happens on the sea and as such, warm temperatures on sea surfaces are desirable for rainfall. However, we are currently experiencing temperatures that are about zero degrees on the sea surfaces. This puts it at a level that does not permit sufficient evaporation and this primarily explains the situation at hand.
She explained that a low-pressure system is gradually replacing the high-pressure system, also known as St. Helena that drives rainfall in our side of the world. This low-pressure system we are experiencing is as a result of storms generating from high mountains in Cameroon as well as circulation from the Indian Ocean. The experience in low rainfall suggests that these low pressures did not begin this year, however, they are gradually changing the face of the country's rainfall pattern.
She further added that one other reason for the cold temperatures on the sea surface is Global Warming. The warm temperatures cause glaciers which are ice in nature to melt. Now although these glaciers are mostly in the Arctic regions, the ocean is global, thus their melting into the ocean affects the overall water temperature causing it to become low, i.e.. colder than it should be.
Dr. Browne Klutse mentioned that last year, there was heavy rainfall occurring in November as well as in December. Ghana never used to have such characteristics, but there are evident differences in rainfall distribution. This further emphasizes that there are changes in the dynamics and circulation of the whole system, leading to a change in the pattern distribution of rainfall.
By way of advice to help mitigate the problem, she advised that more trees be planted to improve the situation. Trees serve as windbreaks to hold storms, as well as absorb some of the greenhouse gases that are produced by human activities. This eventually brings down the heat in the atmosphere.
She also stated that the preservation of forest areas such as the Atiwa Forest, which is a United Nations heritage site, should be a priority since forest reserves tend to support the ecosystem. Reducing the use of fossil fuels was also recommended with suggestions on finding cleaner or greener ways to become industrialized as a country.
With Ghana being a signatory to the Paris Agreement, under the United Nations, indeed, we as Ghanaians must all do our best to keep Global Warming within an appropriate limit, especially in order to tackle the issue of low rainfall in Ghana.