The African Institute for Mathematical Sciences (AIMS) Ghana, in collaboration with Portia Limited U.K., organized the Gender Summit Africa 2023. This landmark event, themed "Africa's energy transition pathways and vision of the Green New Deal through a gender lens," marked the 23rd summit and the fourth on the African continent.
The Gender Summit Africa '23 garnered significant attention by focusing on the intersection of gender equality and Africa's energy transition. This event, held in a hybrid format, commenced with online sessions from June 1-2, 2023, followed by in-person sessions hosted in Accra, Ghana, from June 8-9, 2023, at the Labadi Beach Hotel.
Distinguished participants, including decision-makers, policymakers, scientists, scholars, and stakeholders from diverse sectors and disciplines across Africa, Europe, and beyond, converged to explore evidence, frameworks, and strategies to promote equitable, sustainable, and inclusive societies through the lens of gender-responsive energy transition.
Mrs. Lydie Hakizimana, AIMS Global CEO, expressed her enthusiasm during the summit's opening. She highlighted the significance of Gender Summit Africa '23 as an essential step toward ensuring that women play a vital role in shaping Africa's vision of the Green New Deal and the transition to sustainable energy. As the summit united key stakeholders, discussions centered around the critical impact of energy transitions on climate change and sustainable development.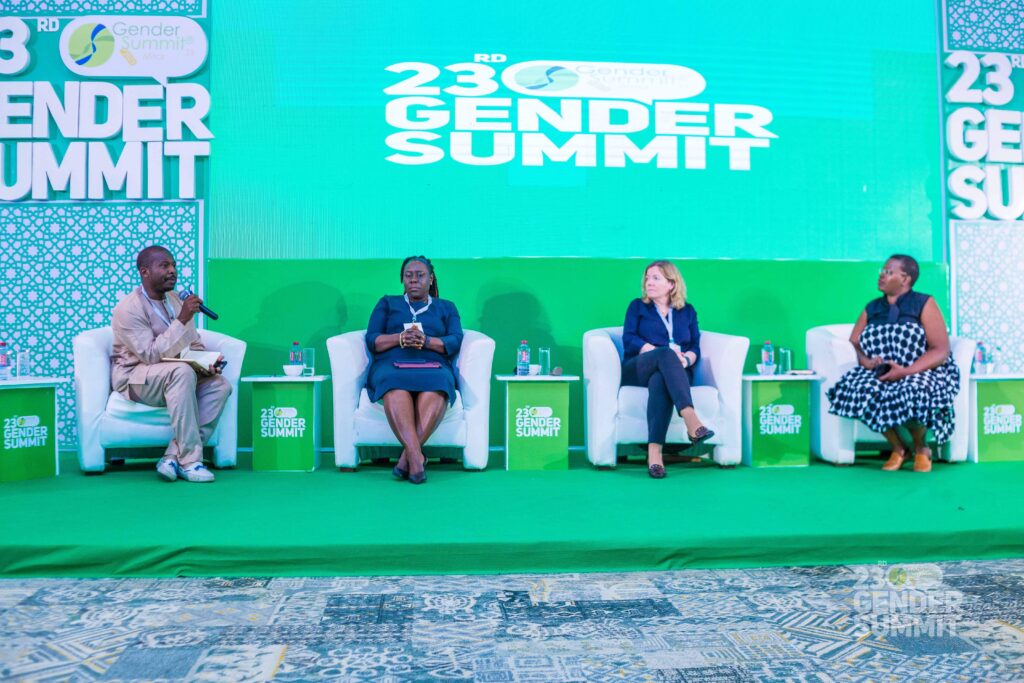 One key focus of discussions revolved around the observation that existing environmental goals, including the United Nations Sustainable Development Goals (SDGs), notably SDGs 7 (energy), 9 (industry and innovation), 12 (responsible consumption), and 13 (climate action), lack explicit gender targets and indicators. The summit emphasized that gender-blind strategies can exacerbate gender-specific vulnerabilities and hinder efforts to achieve sustainable, just, and inclusive energy transitions.
Gender Summit Africa '23 underscored the urgency of addressing these gender-related challenges in energy transition policies. Participants proposed solutions to bridge the gender gap in energy access, promote women's active involvement in STEM fields, and ensure equal representation and participation of women in decision-making processes.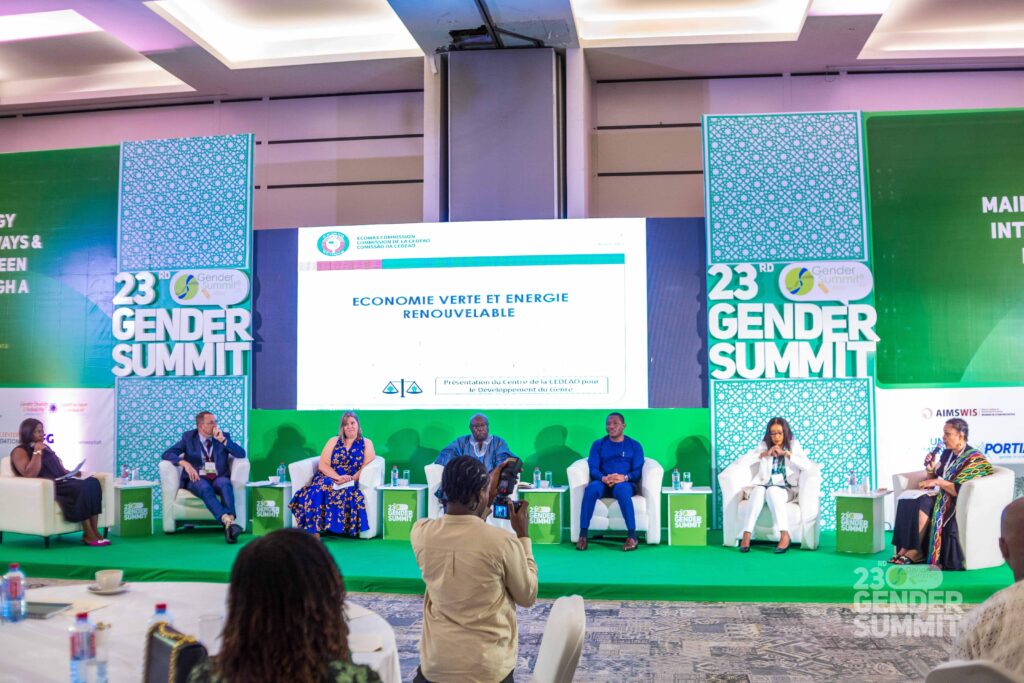 The high-level Ministerial panel which had on board the Minister for Environment, Science, Technology and Innovation (MESTI), Hon. Kwaku Afriyie, the Deputy Minister for Energy, representatives from the European Union, ECOWAS, the Canadian High Commission and the Energy Ministry in Senegal, delved into the European Green Deal's commitments and the importance of just and equitable energy transitions, particularly for marginalized communities in Africa. With Africa's vision of the Green New Deal still in formulation, the summit laid the groundwork for women's participation in the transition process, from research to entrepreneurship.
There were several other panels over the two-day period bringing on board astute men and women who shared presentations, their experiences and insights on topics including "The relationships between national policy imperatives for sustainable energy transition and gendered power dynamic focus on Ghana, Harmonising and coordinating gender mainstreaming into energy transition policies, Innovative Private Sector Funding Models for Sustainable Energy Transitions in African Countries, Enhancing the professional capacity of granting agencies in Africa among others."
Ms. Adelaide Asante, Chief Operations Officer of AIMS Ghana, leading the collaboration with the Gender Summit team, emphasized that the summit's overarching aim is to infuse gender considerations into policies and budgets for a fair and inclusive energy transition across Africa
The summit generated valuable insights, fostering the creation of gender-responsive policies and strategies that promote not only sustainable energy sources but also gender equity and inclusivity. The culmination of the 23rd Gender Summit Africa has set the stage for comprehensive gender considerations in Africa's journey towards a greener, more sustainable future as well as provided an opportunity for participants to network securing potential for collaborations.