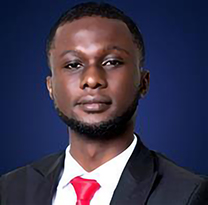 Rayan Mutari studied mathematics and economics for his undergraduate degree at the University of Cape Coast. He is described as one with a strong affection for mathematics and naturally drawn to quantitative subjects. After his undergraduate degree, he had this passion to develop the love for quantitive subjects a step further. He wanted to contribute to the body of knowledge and improve the lives of people in his life; that is where AIMS comes in.
AIMS provided more than just an opportunity to study mathematical sciences; it opened the door to the wonders of the world. The training at AIMS promoted critical, independent and global thinking in his life and set him up for many amazing adventures. The training provided collaboration and hones effective communication in addition to providing technical skills like programming and the foundation of artificial intelligence. The diversity among students and lecturers stimulated the appreciation of different perspectives.
The skills acquired at AIMS facilitated a natural transition into his current role. Rayan works with the IT Audit team at KPMG Ghana. In this role, he, together with his team, carry out procedures that assure the confidentiality, integrity, and availability of financial data, which stakeholders rely on to make decisions that affect the operations and prospects of companies. These companies are primarily multinational and serve several clients within and outside the borders of Ghana.