It is with much sadness and a feeling of emptiness that we write this tribute to this Great Oak of the AIMS fraternity, across six African Countries and Chapters in Europe and North America, who was also the Board Chairman of AIMS Ghana until his demise.
Prof. Edward S. Ayensu, whom we mourn today, was the first person contacted by the late Prof. Francis K.A. Allotey in 2009 when the idea of establishing a Higher Education institution in mathematics and the allied sciences in Ghana was mooted by the Founder of AIMS, Prof. Neil Turok, to Francis. As enthusiastic as we all knew Prof. Ayensu to be, the two friends, Francis and Eddie, set out to make the dream of changing the narrative of inadequate mathematicians in Ghana. They were poised to use all the resources at their disposal to make AIMS Ghana work because to them, 'mathematics was the currency for the future and it is on its wheels that nations will strive'.
In 2012, the two friends established AIMS Ghana as a partnership agreement between the AIMS-Next Einstein Initiative and the Government of Ghana, working closely with three Universities; the University of Ghana, the University of Cape Coast, and Kwame Nkrumah University of Science and Technology. They initially set up the institution in Accra but in the same year, Eddie and Francis relocated AIMS Ghana from Accra to the 'city of Biriwa' in the Central Region. According to Prof. Ayensu, the AIMS building in Biriwa was 'iconic' and he created a strong connection to describing the location to all and Sundry 'scenic iconic building located on a hill overlooking the Atlantic Ocean' – depicting his prowess in writing. The building in Biriwa was home to great thinkers and problem solvers for more than six years until AIMS Ghana was brought back to Accra in 2019. Today, almost every University in Ghana can boast of an AIMS Alumni contributing to teaching and research in mathematical sciences.
We remember Prof. Ayensu for his commitment, tenacity of purpose, camaraderie, and warmth that he exuded anytime he was called to duty at AIMS Ghana. He gave his all to AIMS Ghana. His office was AIMS Ghana's Boardroom from inception until 2019. He shared his resources freely with joy to staff and guests that passed through. Who can visit Prof. Ayensu without experiencing the freshness and unique aroma of his tea, biscuits, candies, etc.. hmmm, we will miss you dearly, Sir.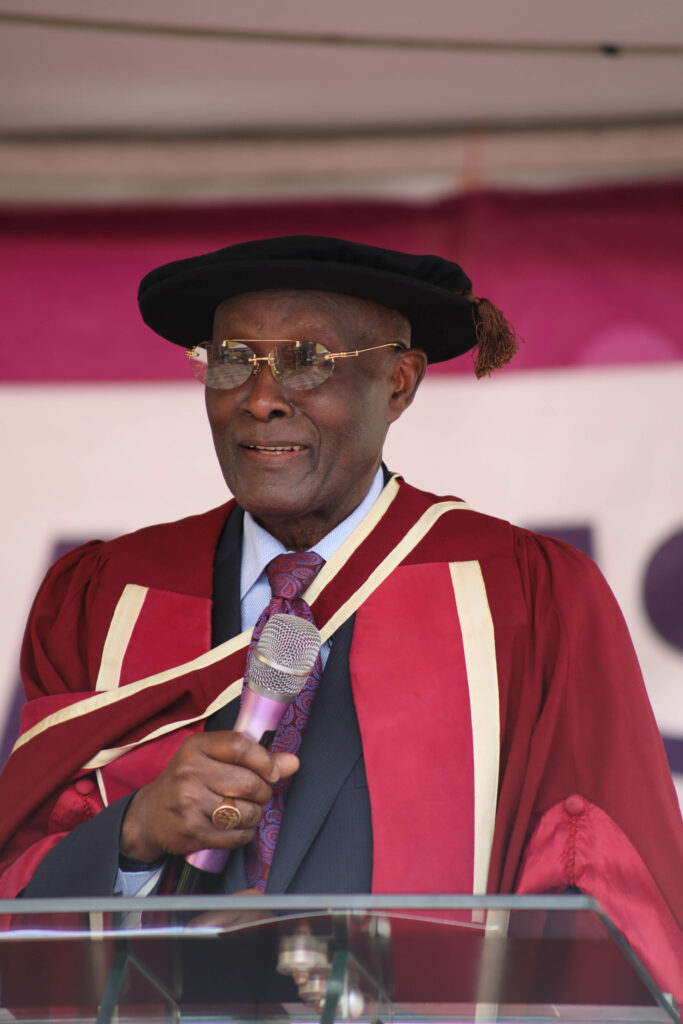 A memorable experience worth sharing happened in 2017 when the two friends teamed up to work with the Ministry of Education and the Ghana Commission for UNESCO to upgrade AIMS Ghana to a UNESCO Centre of Excellency Category 2 status. With so much zeal and passion, the then Minister of Education, Hon. Dr Matthew Opoku Prempeh, welcomed the request and supported the agenda. In a record time of 10 months, what seemed to be an idea became a reality. The AIMS Ghana delegation led by Francis and Eddie, with support from the Ghana Commission for UNESCO, had earlier participated in UNESCO Executive Board in October 2017 where the proposal was accepted. The two were full of joy in anticipation of returning to Paris on November 4th 2017 for the General Conference. Unfortunately, Francis passed two days to the trip to Paris, however, Eddie held the fort and led the AIMS Ghana team to the Conference. He gave a beautiful tribute to his friend and partner, Francis Allotey, at the Conference to the admiration of all. AIMS Ghana's proposal was unanimously accepted without debate.
Prof. Ayensu continued to steer the affairs of AIMS Ghana and supported management throughout his time. In recent times, he spearheaded a strategic meeting with the Minister of Education, Hon. Dr. Yaw Osei Adutwum, which resulted in the allocation of a 5-acre land for the construction of AIMS Ghana's permanent campus at East Legon Hills.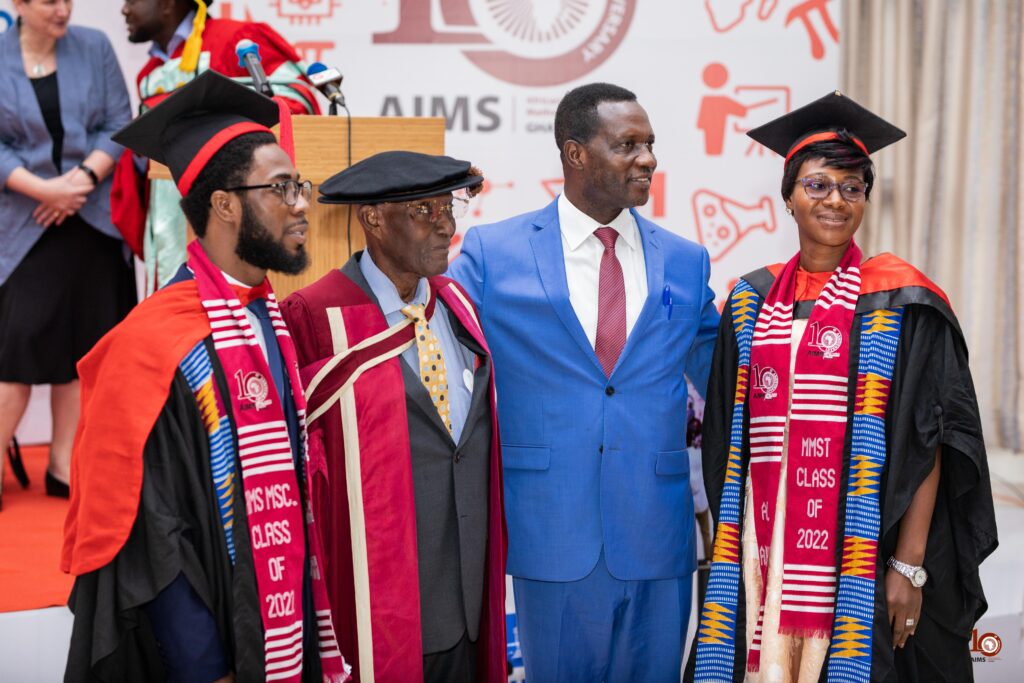 Prof, you were with us throughout our 10th-anniversary celebration last year and you attended all our events. You were at the 10th graduation to open and close the ceremony, a role you never missed. We remember so fondly from a popular AIMS video, where you stated that your dream for the Centre is for it to become, "A pre-eminent institution in the production of the human capacity we need in Sciences to underpin all of the continent's developmental agenda". We at AIMS will continue to work hard to achieve this dream.
From Accra through to Cape Town, Dakar, Kigali, Mbuor, and across the world, the AIMS Next Einstein Family says thank you for showing us how to lead. "The journey doesn't end here. Death is just another path, one that we all must take." J.R.R. Tolkien.
Rest Well, Mighty Man
Rest Well, Board Chairman
Rest Well Prof.
You will forever be part of the AIMS family